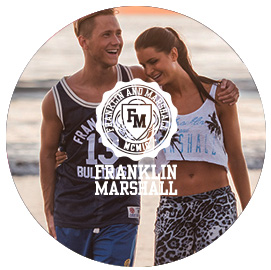 Franklin & Marshall is an Italian clothing company located in Montorio, a hamlet of Verona.
Formed in 1999 by Giuseppe Albarelli and Andrea Pensiero, the brand has a strong vintage connotation tied to the world of US colleges.
All F&M knitwear is strictly "Made in Italy", in line with the business ethics that have distinguished the company from the very beginning.
Today F&M offers a wide range of articles that includes T-shirts, polo shirts, sweatshirts, wool jumpers, Bermuda shorts and much more besides, and that combines the colours and lines typical of sports and casual clothing.
F&M has always been attentive to initiatives connected with social responsibility and is involved in many projects still in progress and others that have been completed with enormous satisfaction.