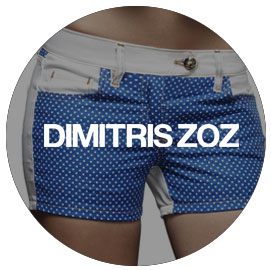 DIMITRIS ZOZ® is a premium denim brand established and produced in Italy by designer Dimitris Zoz.
For Dimitris, Denim has to be seen for what which it truly is; not as a poor choice fabric, not as a "last resort" item, but a living breathing fabric to be shaped and molded to suit our every desire, need and/or occasion.
His approach to the denim cloth is the result of research and a personal journey aimed at creating a virtuous product which respects high quality rules that are superior to standards.
Dimitris designs his collections following a culture of design which derives from the industrial aproach; where form and function combine in sinuous harmony.
Each detail is wisely contemplated and the superfluous is eliminated.
The DIMITRIS ZOZ® creations are the result of a very accurate study of particulars and an exclusive choice of materials utilized that makes them durable over time, surviving the whims of fashion trends and seasons.
DIMITRIS ZOZ® is aimed at a selected and exigent clientel that love and appreciate a well researched artisan product which is at the same time elegant, charming and possessing a clear attention to detail, in a continuous research for exclusivity, quality and style without compromise.
Dimitris, love to define his customers as "Healty Amassadors of Elegance" ins search of quality without compromises, people who apart from choosing, do indeed have the knowhow of choice.